TALBOT PRESS – HARDCORE EROTIC EBOOKS SINCE 2012.

LINKS ON THE TOOLBAR:
Interracial
Cuckold

Raceplay
Forced Sex

BDSM
Bestiality
Incest
Click on any of these links in the toolbar at the top of the site to see what Talbot Press has available in these categories. When you want to sample or order a book, click on the "sample or order" link and you will be taken to SMASHWORDS. They are our major distributor. Or you can check with Amazon, Kobo, Apple iBooks or Barnes & Noble to see if they carry the eBook of your choice. If they do, you can purchase from them directly. In their searchbar, Just type in the title or the author of the book you want. The price is the same from Smashwords or any of our retailers. Your choice.
However, be aware that Amazon, Apple, Kobo and Barnes & Noble carry only a handful of the Talbot Press books. Many of our eBooks are too extreme for them. They restrict Talbot eBooks that have rape, incest, bestialty or non-consensual sex slavery as themes. Smashwords carries the full catalogue of Talbot Press eBooks.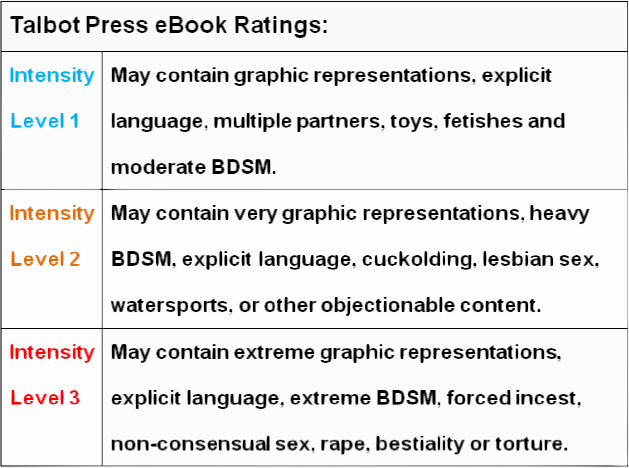 Our rating system allows you to select which hardcore erotic eBooks are right for you. Remember that all Talbot Press novelettes, novellas and novels are to be read only by sophisticated adults who are over 18 years of age. Talbot Press Intensity Level 3 hardcore erotic books are only for those who are not squeamish; and have experience with rape, torture, bestiality and other extreme BDSM subjects. Overwhelmingly, the erotic eBooks at Talbot are "hardcore" and feature extreme BDSM scenarios, with an emphasis on sexual humiliation. As a publisher, we think that training someone to equate humiliation with pleasure has got to be the deepest form of BDSM ever, well beyond needles and other stuff.
The world of hardcore erotic eBooks is a linear descendant of the hard cover erotic novels of the late 19th century and the dirty stories which were published as paperbacks in the middle of the 20th century. People have always wanted access to hardcore BDSM and other sexual tales. Despite the censorship of "bluenoses" and "puritans" everywhere such literature has always flourished.
The history of censorship and repression is almost always connected to a morality based on a religion which seeks to control human sexuality and confine it to traditional marriage. But despite the efforts of politicians, clerics and moral crusaders, the universe of adult fiction has never been more alive primarily due to the growth and proliferation of the Internet. Today hardcore BDSM, cuckold, and race play stories are for sale online; and the public has responded. This has been the principal reason for the growth of hardcore BDSM, cuckold and raceplay humiliation stories.
Talbot Press will continue to make work of Leslie Parma, Joshua Reyes, Caramel Rose, Shabbadew2002 and other like-minded authors available to discriminating readers.